Document & Paper Shredding Services
Are you looking for a document or paper shredding company in Calgary? We are eager to meet you and can't wait to take care of your paper shredding needs. We have established ourselves as industry leaders in Calgary's paper shredding industry by adhering to the highest standards of data security and providing exceptional customer services. No job is too big or too small. Whether you have two banker boxes of documents or two storage units full, we will take care of you.
Your privacy and the protection of your data is a primary focus for us. We work hard to maintain our 100% clean record with proactive measures to ensure there is no information breach.
Mobile Shredding in Calgary & Area
With secure mobile shredding, we bring the services directly to you. An industrial shredding truck is brought to your location where you can witness the complete destruction of any private or sensitive information. A technician will collect your documents and securely deposit them into the shredder right before your eyes. We will schedule our visit in advance and work with you to ensure there is minimal disruption or interference with your operations. Once complete, the technician can provide a Certificate of Destruction to satisfy your privacy policies.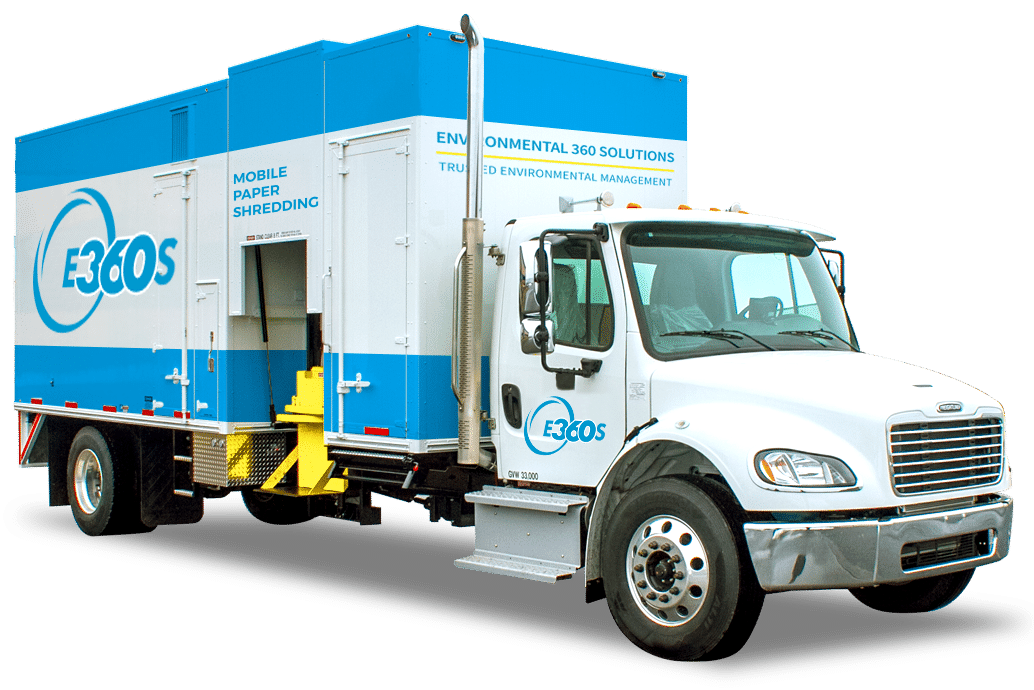 The Highest Standard of Security
We strive to be one of the best shredding companies Calgary has ever seen. Our shredding services are in line with the strictest chain of custody protocols in the industry. Your documents are taken directly to our mobile shredding truck, without any breaks or interruptions, where a technician will immediately process them in front of your eyes. You can have 100% confidence that any private or sensitive information has been destroyed.
Certificate of Destruction
As required, we can provide you with a Certificate of Destruction officially confirming the destruction of documents, including the date and time, the weight of the documents, and the name and signature of the supervisor overseeing the paper shredding. Certificates will be issued after the final documents are processed and the job is complete unless otherwise requested.
Shredding Service Schedules
Many offices and organizations require secure disposal of sensitive or privileged information on a continual basis. It may be to handle large volumes of documents or to comply with their organizational policies. In these cases, services are often scheduled every two weeks or every four weeks, but we are happy to work out a customized schedule based on your unique needs.
We will provide secure on-site containers for the collection and storage of documents between scheduled pickup times. These containers are secured by lock and key and can be placed conveniently in several locations as required. The keys will be available to authorized personnel upon request if access is required.
On-Site Secured Collection
To safeguard your sensitive or privileged documents we offer secure containers that can be placed on-site.




Executive Console
(120 litres)
What is Allowed in the Paper Shredder?

Office Paper
Letters
Documents
Envelopes
File Folders

Clips & Staples
Staples
Paperclips
Small Clips

Notebooks
Coil Bound
Saddle Stich
Perfect Bound
Soft Cover

Printed Materials
Magazines
Flyers
Brochures
Post Cards

News Print
Newspaper
Bulletins
Periodicals
Other


No Plastics Please
Shredded paper can easily be recycled into new products or materials. When shredded plastic is mixed-in the paper becomes contaminated and is harder to recycle. Please remove any plastic materials prior to our arrival.
The Difference Between Off-Site & On-Site Shredding Services
On-site paper shredding services are made possible by industrial shredding trucks that can park at your location, allowing a technician to take your documents and process them through the shredder right before your eyes. We call it mobile shredding. Off-site paper shredding services are sometimes offered as an alternative. With off-site shredding, a driver will pick up your documents and transport them to a facility equipped with an industrial paper shredding machine where they will then be processed by a technician.
Where privacy and data security are concerns, on-site secure shredding is the only solution that provides 100% confidence. This is why many organizations in Calgary have abandoned off-site shredding services altogether. Instead of offering off-site paper shredding as a cheap alternative, we are focused on being as efficient as possible to keep the mobile shredding cost low. We want to keep your information secure and your organization safe.
How Necessary is Paper Shredding in Calgary?
Unfortunately, identity theft and information-based fraud are among the fastest-growing crimes throughout the country. Calgary is no exception. There is an increasing urgency to secure and protect your data, including any personally identifiable information, confidential communications, and any other private or privileged information. We advocate doing everything possible to ensure the safety of your organization, your clients and your employees. By shredding your documents, you can be 100% confident that they will not end up in the wrong hands.